Introduction: The Power of Full-Service Advertising
In today's fast-paced digital world, it's more important than ever for businesses to cut through the noise and reach their target audience effectively. This is where the power of full-service advertising comes into play. A full-service ad agency is a one-stop-shop for all your marketing and advertising needs, from strategic planning and creative design to data analysis and campaign execution.
For forward-thinking brands like yours, navigating the digital world can be overwhelming. Perhaps you're struggling to strategize your campaigns, or finding it difficult to achieve your revenue goals amidst the sea of competition. This is where a full-service advertising agency like Redfox Visual can make all the difference.
In this article, we will dive deep into the concept of full-service advertising, its benefits, potential challenges, and how brands like yours can unleash maximum impact through full-service ads. So, get ready to unlock new potential for your business with the secret sauce to full-service ads!
Understanding Full-Service Advertising
To make the most of your advertising efforts, it's crucial to understand what full-service advertising is and how it benefits your business.
What is Full-Service Advertising?
Full-service advertising is a holistic approach to marketing where an agency takes care of every aspect of a company's marketing needs. These services often include market research, media planning, creative design of advertisements and packaging, and more. It's a comprehensive, one-stop-shop for businesses looking to streamline their marketing and advertising needs.
The Structure of a Full-Service Advertising Agency
Full-service advertising agencies typically operate with three main divisions: account services, media specialists, and creative teams. The account services division is responsible for all communication, relationship building, and contacts. Media specialists ensure your ads reach the right audiences through the most effective channels, while the creative teams bring your brand's message to life through compelling design and storytelling.
Full-Service Advertising vs. Limited Service Advertising
The difference between a full-service and a limited service ad agency lies in the range of services they offer. A full-service agency, as the name suggests, provides a comprehensive suite of services that cover all aspects of advertising. This can include everything from brand strategy development and media planning to creative design and digital marketing.
On the other hand, a limited-service agency specializes in one or a few areas of advertising. While their narrow focus allows for deep expertise in a specific area, they may not have the capabilities to provide a comprehensive strategy that addresses all of your marketing needs. Therefore, if you're looking for a holistic approach to your marketing efforts, a full-service agency like Redfox Visual is the way to go.
In the next sections, we'll delve into the benefits of hiring a full-service advertising agency, potential challenges, and how to choose the right agency for your unique business needs. Stay tuned to understand how full-service advertising can help you unleash maximum impact on your marketing efforts.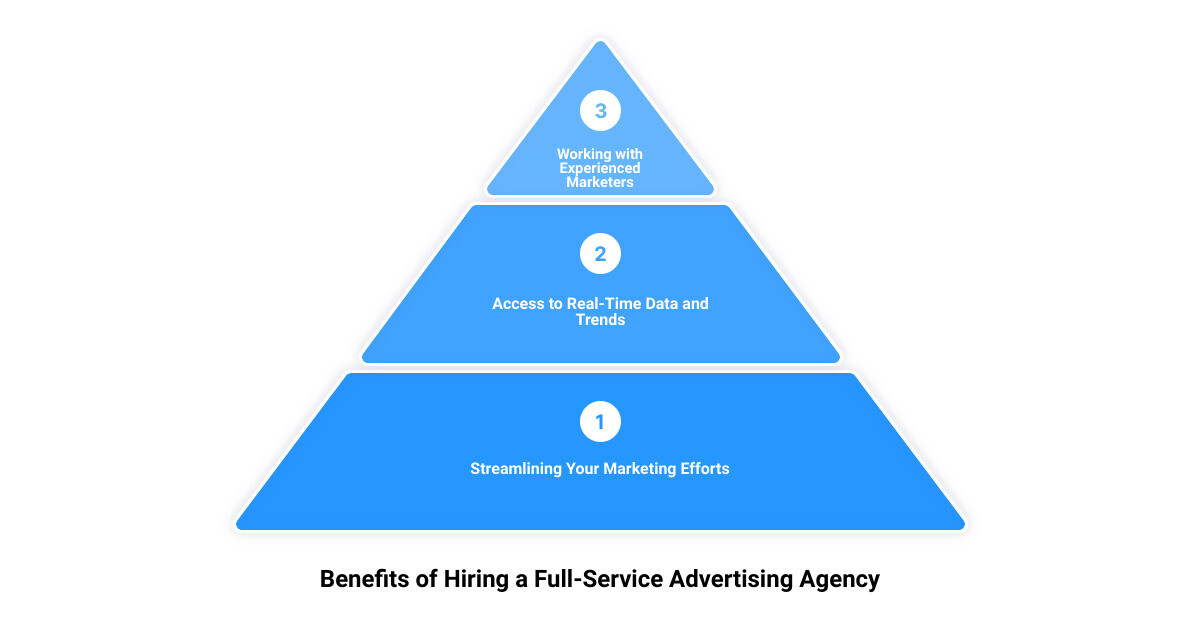 The Benefits of Hiring a Full-Service Advertising Agency
Imagine a world where your marketing efforts are not scattered across different platforms and managed by different teams or individuals. That's exactly what you get when you hire a full-service advertising agency. The benefits extend beyond just convenience. It can also enhance the efficiency and effectiveness of your marketing strategy.
Streamlining Your Marketing Efforts
One of the major benefits of hiring a full-service advertising agency is the streamlining of your marketing efforts. When all elements of your marketing strategy – from SEO to social media marketing, from print campaigns to website design – are under one roof, they can be managed and monitored more effectively. This results in a more cohesive and consistent brand message across all platforms. It also frees up your time so you can focus on what you do best – running your business. As Redfox Visual points out, marketing is time-consuming and it is a never-ending process. By hiring a full-service agency, you're ensuring that your marketing is taken care of strategically and systematically.
Access to Real-Time Data and Trends
Full-service advertising agencies have their fingers on the pulse of current marketing trends and have access to real-time data. They have the tools and resources to monitor your campaigns, analyze the data, and optimize your strategy based on the results. This means you're always staying relevant and competitive in your industry. Remember, the marketing industry is ever-changing and being ahead of the curve can give you a significant advantage.
Working with Experienced Marketers
Perhaps one of the most compelling benefits of hiring a full-service advertising agency is the access to a team of experienced marketers. These experts know the ins and outs of the industry and have years of experience in delivering results. These are the people who have tested and tweaked various strategies, know what works, and can bring their expertise to your business to help it grow. At Redfox Visual, for example, they have dedicated teams for SEO efforts and pay-per-click campaigns, each with their own set of expertise and industry knowledge.
In a nutshell, hiring a full-service advertising agency can provide your business with a streamlined marketing strategy, access to real-time data and industry trends, and a team of experienced marketers at your disposal. In the next section, we'll discuss some potential challenges you might face when working with a full-service advertising agency.
Potential Challenges of Working with a Full-Service Advertising Agency
While there are numerous benefits of enlisting the services of a full-service advertising agency, it's important to also consider potential obstacles that may arise. By understanding these challenges, you can better navigate the landscape of full-service advertising and ensure a successful collaboration.
Potential Miscommunication
In the bustling world of marketing and advertising, clear and effective communication is key. However, when you're working with a full-service agency, there's a risk of potential miscommunication. With multiple departments handling different aspects of your marketing strategy, messages may get lost in the shuffle. To prevent this, ensure you establish robust communication channels from the get-go. Regular meetings and updates can help keep everyone on the same page, ensuring your marketing strategy is executed seamlessly.
Lack of Industry Experience
Full-service agencies are often jacks-of-all-trades. They work across a wide range of industries and service offerings. While this breadth is generally a strength, it can sometimes be a challenge if an agency lacks specific experience in your industry. For instance, a strategy that works well for a tech startup may not be as effective for a traditional brick-and-mortar store. Therefore, it's crucial to choose an agency that has a proven track record in your sector.
Prioritization of Other Clients
In a full-service advertising agency, you're not the only client. The agency is juggling multiple clients, each with unique needs and demands. There is a chance that your business might not always receive the attention it requires, especially during peak times when the agency is managing high-priority projects for other clients. To mitigate this, it's essential to establish clear expectations about deliverables and timelines from the outset. A reputable agency will be transparent about its workload and capacity to deliver on your marketing objectives.
While these challenges may seem daunting, they are not insurmountable. By being proactive, clear in your communication, and choosing an agency with relevant industry experience, you can leverage the power of full-service advertising to its fullest extent. In the next section, we'll explore how to choose the right full-service advertising agency for your business.
How to Choose the Right Full-Service Advertising Agency
Unleashing the full potential of advertising integration starts with choosing the right full-service advertising agency. With the right choice, you're not just hiring an agency to do your marketing, but you're also gaining a partner that shares your vision for growth. Here are some vital steps to consider.
Aligning with Your Business Goals
Just as a compass points towards the North, your chosen full-service advertising agency should be pointed towards your business goals. While all agencies may promise to skyrocket your sales, not all are equipped to deliver on this promise. One crucial factor to consider is whether the agency has expertise in B2B or B2C or both, depending on your business model. An agency specializing in B2B may not be as effective for a B2C company and vice-versa. The right agency will have the expertise to understand your business, target audience, and industry, aligning their strategies to your business goals.
Checking Client Testimonials
The proof of a good agency is in the pudding of its client testimonials. A reputable full-service advertising agency will be proud to showcase their past work. Review their portfolio, look for relevant metrics like impressions, cost, clicks, average CPC, conversions, ROI, and more. Look for the agency's ability to narrow down their clients' target audience and their creativity in visuals and ad copy. If the agency is hesitant to present their portfolio, it might be a red flag.
Understanding the Agency's Full Marketing Service
Understanding an agency's full service offering is critical to ensuring they can meet your needs. Full-service advertising agencies offer a wide variety of services, including strategic planning, production, creativity, and innovations, as well as interactive marketing services via the internet. It's essential to ask the right questions: What services do they offer? Are they able to help with traditional advertising as well as digital aspects, like websites and social media? How does their fee structure work? Are they connected with various media outlets for media outreach and ad placement? How will they work with your team?
By aligning with your business goals, checking client testimonials and understanding the agency's full marketing service, you can confidently choose the right full-service advertising agency. The right choice will be a game-changer for your business, helping you unleash maximum impact and truly capture the power of full-service advertising.
The Role of Redfox Visual as a Full-Service Advertising Agency
As you embark on your journey to find the right full-service advertising agency for your business, it's time to shine the spotlight on Redfox Visual. Not just any agency, Redfox Visual is one that stands out among the sea of options, offering a unique blend of services that cater to the multifaceted needs of businesses in the digital era.
Specialization in Web Design, SEO, Video Production, and Social Media Marketing
Redfox Visual seamlessly combines web design, SEO, video production, and social media marketing into its full-service offering. With a team of web designers, they craft visually appealing and functional websites that provide a seamless user experience, setting the stage for your online success. Their SEO specialists ensure the visibility of your website to your target audience, driving organic traffic and fostering higher conversion rates.
Moreover, Redfox Visual's expertise extends to video production, creating compelling and engaging video content that transforms potential customers into loyal clients. The agency also excels in social media marketing and advertising, helping brands to build a robust online presence and engage with their audience in meaningful ways.
The Unique Selling Proposition of Redfox Visual
What truly sets Redfox Visual apart is their unwavering commitment to client success. They're not just about delivering services; they're about delivering results. As stated on their website, "You've never had an agency care about your results as much as we do." This customer-centric approach ensures that your brand's success is the driving force behind all their efforts, making Redfox Visual an essential partner for your growth journey.
Dominating the Boise Market with Quality Results at Reasonable Prices
Redfox Visual is not only dedicated to providing top-notch services but also committed to delivering them at reasonable prices. This commitment has enabled them to dominate the Boise market, where they've built a reputation for providing quality results without breaking the bank. They've worked with a multitude of businesses, helping them to establish a strong online presence and achieve their marketing goals.
In conclusion, Redfox Visual is a full-service advertising agency that brings together expertise in web design, SEO, video production, and social media marketing, coupled with a unique selling proposition and a track record of delivering quality results at reasonable prices. By partnering with Redfox Visual, businesses can truly unleash the maximum impact of full-service advertising.
Conclusion: Unleashing Maximum Impact with Full-Service Ads
In the complex and dynamic world of digital marketing, full-service advertising stands as a beacon of comprehensive and integrated solutions. It offers a unique blend of convenience, expertise, and strategic alignment, making it a potent tool for businesses aiming to cut through the noise and reach their revenue goals.
From the initial stages of research and analysis to the final stages of campaign tracking and optimization, full-service ad agencies like [Redfox Visual](https://www.redfoxvisual.com/) cater to every aspect of your advertising needs. They serve as an extension of your team, providing a holistic approach to marketing that is both cost-effective and results-oriented. Their offerings range from SEO and social media marketing to web development and video production, providing you with the necessary tools to dominate your market.
Moreover, full-service advertising agencies strive to stay abreast of real-time data and trends, enabling them to deliver strategies that not only resonate with your target audience but also align with the latest market conditions. This level of attentiveness and adaptability sets them apart from limited service providers, empowering businesses with a competitive edge.
However, it's worth noting that the journey with a full-service ad agency is not without potential challenges. There could be instances of miscommunication or concerns about industry experience and client prioritization. But by choosing the right agency that aligns with your business goals and has a proven track record, these challenges can be mitigated.
In conclusion, the secret sauce to unleashing maximum impact with full-service ads lies in understanding the unique value that these agencies bring to the table. It's about recognizing the breadth and depth of their services, their commitment to staying updated with market trends, and their ability to provide comprehensive solutions tailored to your specific business needs.
With a full-service ad agency like Redfox Visual, you're not just hiring a marketing team; you're gaining a strategic partner that can help propel your business forward. So, if you're ready to harness the full force of full-service advertising and unlock your business's potential, it's time to partner with a reliable and experienced full-service ad agency.