Introduction
In the fast-paced world of digital marketing, it's critical to align yourself with a marketing agency that not only understands your brand's unique needs but also has the skills and expertise to make your vision a reality. This is especially true in a competitive landscape like Boise, where standing out from the crowd can be the difference between success and stagnation.
The Importance of Choosing the Right Marketing Agency in Boise
Navigating the digital world can be a daunting task. From SEO and web design to social media marketing and video production, there's a lot to consider when it comes to promoting your brand online. It's not just about having a presence on the internet; it's about strategically positioning your brand to cut through the noise and reach your target audience effectively. This is where a marketing agency comes in.
The right marketing agency can take your business to new heights by crafting a comprehensive digital marketing strategy tailored to your brand's specific needs. They can provide you with the tools and guidance you need to not only survive but thrive in the digital arena. However, with a myriad of marketing agencies in Boise, choosing the right one can be a challenge.
Overview of Redfox Visual as a Leading Marketing Agency in Boise
Welcome to Redfox Visual, your one-stop solution for all your digital marketing needs. As a leading marketing agency in Boise, Redfox Visual is committed to helping your brand reach its full potential. With a forward-thinking approach and a team of seasoned professionals, we specialize in providing a wide range of services, including web design, SEO, and video production.
Redfox Visual is more than just a marketing agency; we are a strategic partner dedicated to propelling your business towards its revenue goals. We understand the unique challenges faced by medium to large brands in today's digital landscape, and we are here to provide you with comprehensive solutions to overcome these challenges.
Stay tuned to learn more about the role of a marketing agency, what makes Redfox Visual stand out among other Boise marketing agencies, and how our services can unlock your brand's success. Buckle up, because we're about to take your brand on a journey towards digital marketing excellence.
Understanding the Role of a Marketing Agency
In the bustling city of Boise, where businesses are vying for consumer attention and market dominance, a marketing agency plays a pivotal role in driving your brand to the forefront. But what exactly does a marketing agency do?
The Services Offered by Marketing Agencies
Traditionally, marketing agencies have been the architects of brand visibility, crafting compelling narratives and deploying strategic campaigns to connect businesses with their target audience. In the digital era, this role has evolved and expanded to encompass a vast array of specialized services.
At their core, marketing agencies like Redfox Visual are responsible for managing online campaigns to help brands connect with consumers. This involves consulting with companies to design multi-channel marketing campaigns, conducting SEO research to identify optimal keywords and topics for a brand's audience, planning marketing materials and sites, and creating engaging content such as landing pages, blog posts, social posts, ads, videos, and emails.
Agencies also expertise in search engine marketing (SEM), leveraging advertisements that appear in search engine results pages to boost brand visibility. They optimize a page's meta data, focus on local content, and optimize their client's company for Google My Business, capturing local customers at the moment they are searching for a product or service in their specific region.
How Marketing Agencies Drive Business Success
Marketing agencies are not just service providers; they are strategic partners that contribute significantly to business growth and success. Digital marketers such as Redfox Visual monitor and measure a company's digital marketing efforts, using sophisticated digital marketing analytics to understand user engagement, click-through rate (CTR), conversions, session duration, and bounce rate.
These insights allow marketers to refine strategies, ensuring they align with a company's objectives and deliver the desired results. Whether it's business-to-business (B2B) or business-to-consumer (B2C) marketing, agencies work to get your company's message in front of consumers who are searching for or might be interested in your products.
Moreover, marketing agencies can enhance your company's relevance in the ever-changing industry. As experts that monitor and respond to trends, they can build future-proof growth systems, unlocking the full force of digital marketing at a budget-friendly cost.
In essence, a marketing agency serves as your navigator in the complex digital landscape, leveraging expertise and innovative tools to drive your brand towards success. In the next section, we'll delve into why Redfox Visual stands out among other Boise marketing agencies, and how our services can help your business thrive.
Why Redfox Visual Stands Out Among Boise Marketing Agencies
In the vast sea of marketing agencies, it can be challenging to find one that genuinely cares about your results. That's where Redfox Visual steps in. With a robust mix of services, a unique selling proposition, and a team of seasoned professionals, Redfox Visual is a marketing agency in Boise that truly stands out from the rest.
Expertise in Web Design, SEO, and Video Production
Redfox Visual's expertise lies in the comprehensive combination of web design, SEO, and video production. The agency creates engaging websites that captivate your target audience, drives traffic through effective SEO strategies, and curates conversion-oriented videos.
One of the most important aspects of a successful digital marketing strategy is a well-designed, user-friendly website. Redfox Visual's team of web designers ensures clients' websites not only look good but also function optimally, providing visitors with a seamless user experience.
Furthermore, Redfox Visual's SEO specialists ensure that your website is visible to your target audience by using tried-and-tested SEO techniques. This increases organic traffic to your website, leading to higher conversion rates.
In addition to website design and SEO, the agency's video experts craft compelling videos that help convert potential customers into loyal clients. From explainer videos to promotional ads, they know how to leverage video content to make your brand stand out.
The Unique Selling Proposition of Redfox Visual
What sets Redfox Visual apart is the agency's commitment to the success of its clients. As stated on their website, "You've never had an agency care about your results as much as we do." This customer-centric approach ensures that your brand's success is at the forefront of their efforts, making Redfox Visual an essential partner for your growth journey.
The Team of Seasoned Marketing and Creative Professionals at Redfox Visual
At the heart of Redfox Visual is an ensemble of seasoned marketing and creative professionals. This team of experts is proficient in various digital marketing disciplines, ensuring that your brand benefits from a holistic approach to digital marketing. With Redfox Visual, you get to leverage the collective skills and knowledge of a team that has years of experience in the industry.
In conclusion, Redfox Visual stands out among Boise marketing agencies due to its expertise in web design, SEO, and video production, its unique selling proposition, and its team of seasoned professionals. With Redfox Visual, you can unlock success in the digital world.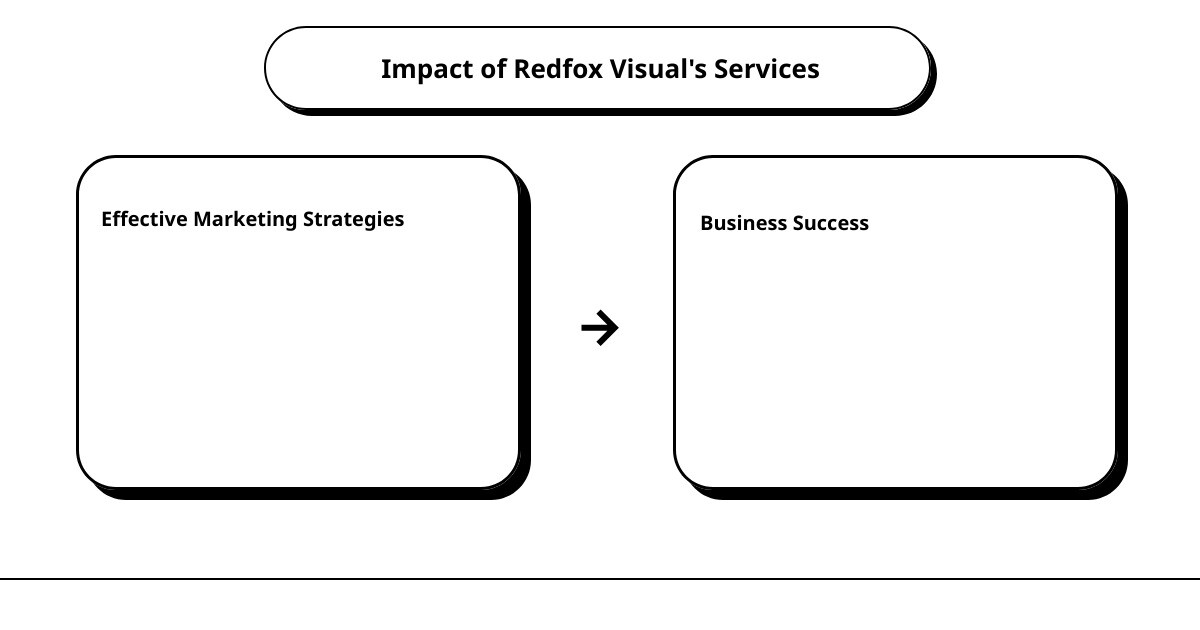 The Impact of Redfox Visual's Services on Boise Businesses
The impact of any marketing agency's work is best measured by the tangible results they deliver for their clients. It's no different for Redfox Visual, a leading marketing agency in Boise. Their digital marketing strategies have a proven track record of driving growth and success for numerous businesses in a variety of industries. Let's delve into some of the case studies and testimonials that highlight the significant impact Redfox Visual has had on Boise businesses.
Case Studies of Successful Projects by Redfox Visual
Redfox Visual has an impressive portfolio, showcasing a broad spectrum of successful projects they've handled for various clients. While the specific case studies aren't detailed in the sources provided, we can infer from their expertise and their extensive range of services that these projects likely span across web design, SEO, and video production, among other digital marketing strategies.
Redfox Visual's ability to deliver comprehensive solutions, tailored to the unique needs of each client, ensures that every project they undertake is a success story in its own right. Each completed project adds to their growing list of case studies, providing further evidence of their ability to drive business growth and success.
Testimonials from Satisfied Clients
Nothing speaks more to the quality of a marketing agency's work than the words of satisfied clients. As the sources indicate, Redfox Visual has consistently received high ratings and positive feedback from their clients. Their professionalism, responsiveness, and attention to detail have been particularly commended by past clients.
While we don't have the direct quotes from the clients of Redfox Visual, the positive reviews and ratings across multiple review sites validate the company's reputation for delivering excellent results. Their clients appreciate their prompt responses, comprehensive solutions, and the growth they've experienced as a result of Redfox Visual's services.
Redfox Visual's impact on Boise businesses is clear. Their digital marketing strategies have delivered tangible results, driving growth and success for a variety of clients. The numerous positive testimonials are a testament to their commitment to client satisfaction, further cementing their status as a leading marketing agency in Boise.
Comparing Redfox Visual with Other Boise Marketing Agencies
Choosing the right marketing agency is vital to unlocking success in today's digital world. While Redfox Visual has proven its mettle, it's also important to understand how it stacks up against other marketing agencies in Boise. Let's take a closer look at some of the contenders.
VELOX Media
VELOX Media is a leading ROI-focused digital marketing agency that offers services such as strategy, organic search, content marketing, technical search engine optimization, conversion optimization, and paid advertising management. They have a reputation for exceeding client expectations and delivering projects ahead of schedule, garnering high praise from their clients.
However, where Redfox Visual edges ahead is in its comprehensive approach, offering not just SEO and digital marketing, but also web design and video production. This all-encompassing strategy enables Redfox Visual to deliver a holistic digital experience for its clients.
WebMarkets Digital Marketing + SEO Agency
WebMarkets Digital Marketing + SEO Agency is another player in the Boise digital marketing scene. They specialize in search engine marketing and optimization, targeted and pay-per-click advertising, and web design. They also manage clients' social media accounts to create an online presence and an avenue of communication for their customers.
Though WebMarkets also offers a variety of services, Redfox Visual's personalized approach and dedication to client results set it apart. Redfox Visual takes pride in caring about its clients' results more than any other agency.
Dark Matter Strategic
Dark Matter Strategic is yet another digital marketing agency in Boise. They offer a range of services, including branding and logo development, SEO, pay-per-click and email advertising. Unlike Redfox Visual, however, they don't seem to offer video production services, which can be a crucial aspect of a comprehensive digital marketing strategy.
The Marketing Goddess Global Marketing Solutions, Dreal Digital, DTX Creative, Page One Power, JEMSU | Boise SEO & Digital Advertising, Up Hero, KM3 Media
Like the others, these agencies offer a variety of digital marketing services. They each have their strengths, but none match the comprehensive, client-focused approach of Redfox Visual. Whether it's web design, SEO, or video production, Redfox Visual's team of seasoned professionals delivers top-notch results, making them a one-stop solution for Boise businesses.
In conclusion, while there are many marketing agencies in Boise, Redfox Visual stands out with its comprehensive service offerings, commitment to client results, and a team of seasoned marketing and creative professionals. They've proven time and again that they're the marketing agency Boise businesses can rely on for success.
Conclusion
The Value of Partnering with Redfox Visual for Your Marketing Needs
Achieving your digital marketing goals is no small task. It requires a careful combination of strategy, creativity, and technical know-how. It's an endeavor that can be made easier, more efficient, and ultimately more successful by partnering with the right agency. Redfox Visual, with its proven expertise in web design, SEO, and video production, is that agency.
Choosing Redfox Visual as your marketing agency in Boise means entrusting your business's digital success to a team of seasoned professionals. They not only understand the intricacies of the digital landscape, but they also know how to navigate it tactfully to drive tangible results. From boosting your website's SEO to designing engaging video content, every service offered by Redfox Visual is geared towards one goal: amplifying your brand's online presence and driving your revenue growth.
The value of partnering with Redfox Visual extends beyond their service offerings. Clients have consistently praised the agency for its responsiveness, professionalism, and overall dedication to their success. These are not just services you're investing in, but a partnership that ensures your digital marketing efforts are handled with the utmost care and expertise.
How to Get Started with Redfox Visual
Ready to unlock success with the best marketing agency in Boise? Starting your journey with Redfox Visual is straightforward. Whether you're interested in a complete digital marketing package or specific services like highly-converting Facebook ads, Redfox Visual is ready to help.
To get started, visit the Redfox Visual website and explore their service offerings. If you're interested, simply fill out the 'Contact Us Form'. Their experts will reach out to you, guiding you through their end-to-end process. You can also call their office line directly, and the friendly team at Redfox Visual will be happy to assist you.
Remember that every business is unique, and Redfox Visual understands that. They will tailor their digital marketing approach to fit your specific needs and goals.
In choosing Redfox Visual as your partner, you're setting your business up for digital success. Don't wait – kickstart your digital growth with Redfox Visual today.