In the digital age, businesses are not confined to brick-and-mortar storefronts. Instead, they have the world at their fingertips – a global marketplace accessible with a few clicks. This digital sphere is where web marketing firms shine, wielding the power of the internet to propel businesses to new heights and unprecedented success. In this article, we'll delve into the invisible yet potent force of web marketing firms, focusing on how they utilize online platforms to drive business growth and success.
Web marketing, or digital marketing, is a powerful tool that businesses can harness to increase their online visibility, attract high-quality traffic, and boost sales and revenue. It's a strategy that doesn't just keep up with the ever-changing consumer behavior and preferences—it anticipates them. It reaches the right people at the right time in the right place, giving businesses, regardless of their size, a fighting chance against the big guns in the industry.
So, what is a web marketing firm? How does web marketing work? Who are the top players in the field? And how is the future of web marketing shaping up with the emergence of Web3 Marketing Agencies? We'll answer all these questions and more, providing you with a comprehensive understanding of the invisible web marketing firm that could be the key to unleashing your business's online success. Stay tuned!
Understanding Web Marketing: Definition and How it Works
In a digital world where online visibility is crucial, understanding web marketing and how it works is a must. Whether you're an established brand or a growing startup, knowing the ins and outs of web marketing can be the game-changer for your business.
What is a Web Marketing Firm?
A web marketing firm, often synonymous with a digital marketing agency, is an organization that specializes in marketing products, services, or brands through various online channels. They are the powerhouses behind your online presence, creating and launching effective marketing strategies that connect you with your target audience.
These firms utilize a wide range of digital tools and platforms, including social media, pay-per-click advertising, and video marketing, among others, to promote your business. But their expertise doesn't stop there. They also offer services like search engine optimization (SEO), eCommerce web design, content writing, and online reputation management to help boost your business's online visibility, drive website traffic, and ultimately, increase sales.
Web marketing firms are not one-size-fits-all. Some firms may focus on specific industries, while others offer bespoke services tailored to each client's unique needs. For example, a Web3 marketing agency specializes in promoting blockchain-based companies, crypto projects, and NFTs, utilizing innovative strategies tailored to the specific needs of this burgeoning industry.
How Does Web Marketing Work?
Web marketing works by leveraging various digital channels to connect businesses with their potential customers. It's about strategically placing your business in front of your target audience at the right time and on the right platform.
At the heart of web marketing is the understanding of consumer behavior online. Web marketing firms use data analytics and market research to understand where your target customers spend their time online, what they are interested in, and how they interact with different types of content.
Once they've gained insights into your audience's behavior, web marketing firms can create and execute effective marketing strategies. This could involve optimizing your website for SEO to rank higher on search engine results pages, creating engaging content that resonates with your audience, or launching social media campaigns to increase brand awareness and engagement.
Moreover, web marketing involves continuous testing and analysis. Digital marketing agencies use key performance indicators (KPIs) to measure the success of their campaigns, allowing them to tweak and optimize strategies based on what's working and what's not.
Understanding the role and workings of a web marketing firm can be the first step towards harnessing the power of online success. With their expertise and innovative strategies, these firms can help businesses navigate the digital landscape, maximize their online presence, and drive growth in the competitive digital marketplace.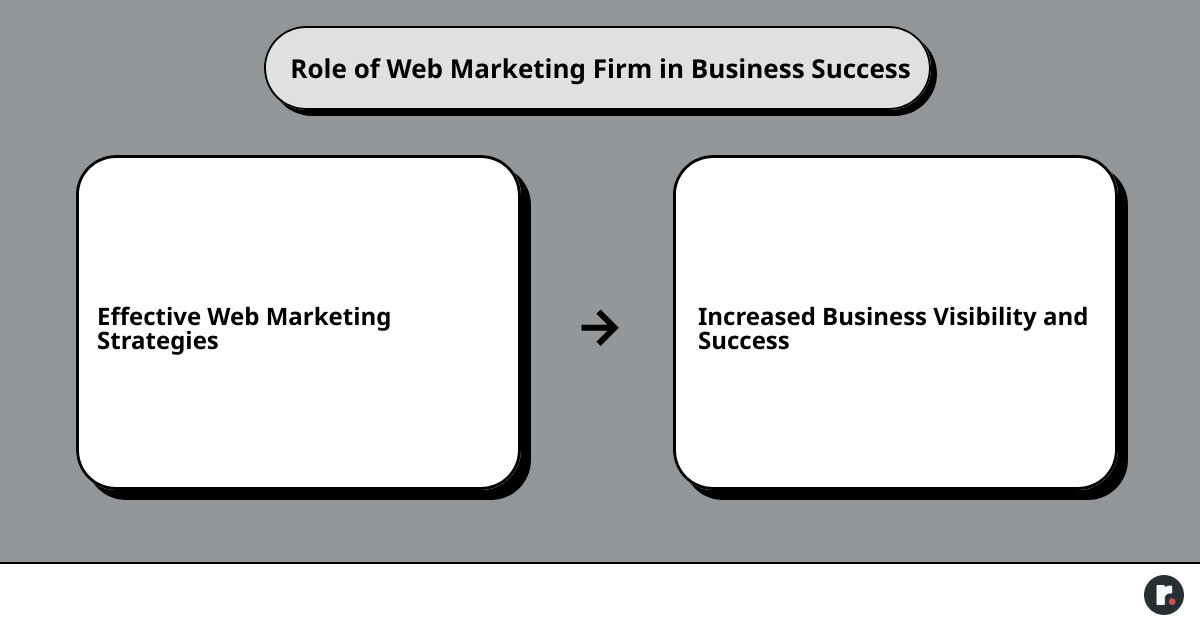 The Role of a Web Marketing Firm in Business Success
A web marketing firm serves as a bridge that connects businesses with their potential customers, helping them navigate through the vast digital landscape. They ensure that a business's voice gets heard and that its products or services get noticed in the crowded online marketplace. But the role of a web marketing firm stretches beyond just making introductions. They play a significant part in shaping the business's success by promoting and selling its services or products online.
Connecting Businesses with Customers
Web marketing firms use a variety of digital channels, including social media, pay-per-click advertising, SEO, and content marketing, to reach prospective customers. They create tailored marketing campaigns, design user-friendly websites, and produce compelling content to attract and engage the target audience.
By understanding the needs and interests of a business's potential customers, a web marketing firm can craft messages that resonate with them, increasing brand awareness and driving traffic to the business's website. In the digital age, where consumers are constantly bombarded with information, web marketing firms help businesses stand out, ensuring that their messages reach the right people at the right time.
Promoting and Selling Services or Products Online
But connecting businesses with customers is just part of the equation. A web marketing firm also plays a crucial role in promoting and selling a business's services or products online. They use a variety of innovative strategies, including SEO, pay-per-click advertising, and social media marketing, to increase a business's visibility, attract potential customers, and drive conversions.
One of the key services offered by web marketing firms is search engine optimization (SEO). By optimizing a business's website for search engines, they can help it rank higher on search engine results pages, increasing its visibility and attracting more organic traffic.
Pay-per-click advertising, another service offered by web marketing firms, is a paid strategy that involves a business paying a fee each time one of their ads is clicked. By targeting specific keywords and demographics, pay-per-click advertising can help businesses reach potential customers who are actively searching for their products or services.
Social media marketing, on the other hand, involves promoting a product or service on social media platforms. With the majority of consumers using social media daily, this strategy can help businesses reach a large audience, engage with potential customers, and build strong relationships with them.
Through these strategies and more, web marketing firms can help businesses promote their services or products, drive traffic to their websites, increase sales, and ultimately, achieve online success.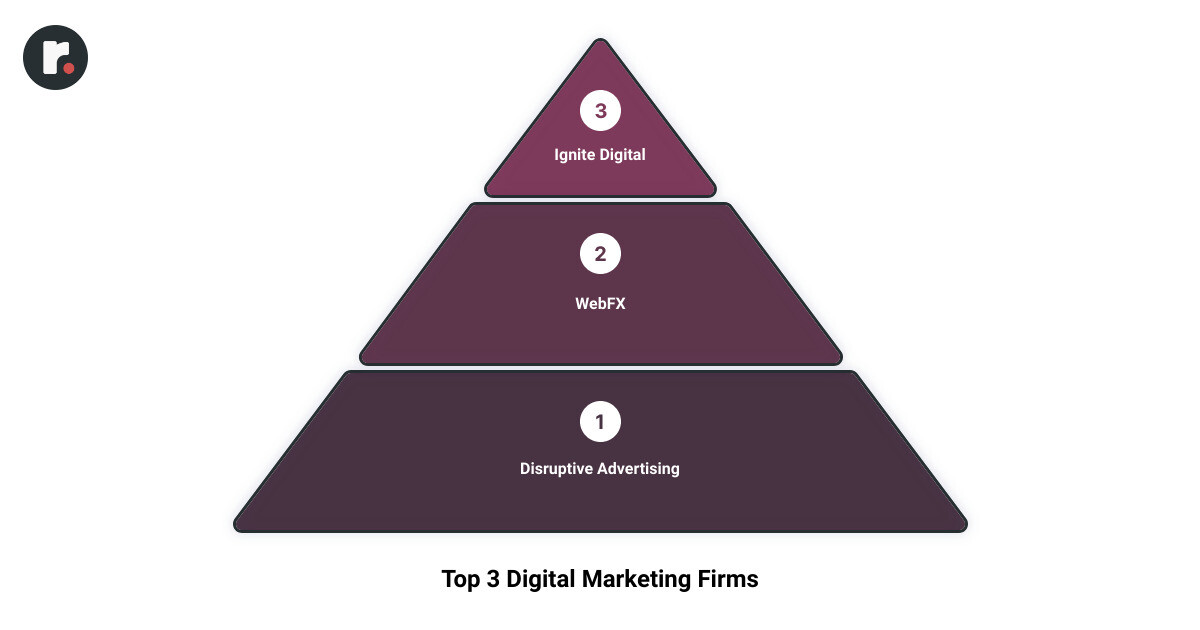 The Top 3 Digital Marketing Firms in the World
In the vastly dynamic digital world, selecting a top-tier web marketing firm can be a game-changer for businesses. To paint a clearer picture of who the major players are, let's delve into the credentials of three globally renowned digital marketing firms – Ignite Digital, WebFX, and Disruptive Advertising.
Ignite Digital
In the realm of digital marketing, Ignite Digital stands tall. Founded in 2013, this San Diego based firm manages approximately $100 million in ad spend per year. They have made a name for themselves as one of the leading SEO agencies in the United States. Ignite Digital's unique edge lies in their focus on forecasting. Their proprietary, multichannel, performance-based forecasting system aids in accessing competitive analysis and business data. This tech-driven approach has been instrumental in helping their clients, including big names like Tony Robbins, reach their business goals. Their services span SEO, Paid Media, Email Marketing, CRO, Website Design and Development, and Amazon Marketing.
WebFX
Next, we have WebFX, another prominent player in the digital marketing arena. This agency has been instrumental in shaping the digital marketing industry with innovative strategies. Offering an array of services including SEO, link building, on-page optimization, off-page optimization, and much more, they've made a significant impact on businesses worldwide. Their unique approach to crafting and implementing highly converting ads, eye-catching landing pages, and fool-proof lead nurturing processes has helped businesses boost conversion rates via strategic paid ad campaigns.
Disruptive Advertising
Rounding out our top three is Disruptive Advertising. Renowned for their disruptive approach to digital marketing, they have carved a niche for themselves in the industry. Their strategies, backed by a deep understanding of the digital landscape, have helped businesses disrupt their markets and achieve unprecedented growth.
These top-tier agencies have set the bar high in the world of digital marketing. However, they aren't the only players in the game. Emerging web marketing firms like Redfox Visual are also making a significant impact in specific markets, such as Boise, Idaho. Let's delve into what makes Redfox Visual stand out in the next section.
Redfox Visual: A Leading Web Marketing Firm in Boise, Idaho
In a world where digital presence is crucial for success, Redfox Visual emerges as a beacon of innovation and excellence. This Idaho-based web marketing firm is not just another digital agency, it's a game-changer, particularly for businesses in Boise and beyond.
Specialization in Web Design, SEO, and Video Production
The key to Redfox Visual's success lies in its three-pronged approach: exceptional web design, effective SEO strategies, and compelling video production. With an in-depth understanding of the digital landscape, they create visually captivating websites that offer a seamless user experience. Their SEO experts ensure your website reaches the right audience through tried-and-true techniques, driving organic traffic and leading to higher conversion rates.
In the realm of video marketing, Redfox Visual excels at crafting videos that convert potential customers into loyal clients. From explainer videos to promotional ads, they leverage video content to make your brand stand out in the digital world.
Unique Selling Proposition: Seasoned Marketing and Creative Professionals
What sets Redfox Visual apart is its team of seasoned marketing and creative professionals. Their collective skills and knowledge span various digital marketing disciplines, ensuring a holistic approach that benefits your business. You're not just hiring a marketing agency, but a dedicated team of experts committed to your success.
Quality Results at Reasonable Prices
One of the defining features of Redfox Visual is their commitment to delivering quality results at reasonable prices. They view their client relationships as partnerships, not just business transactions. Every project they undertake is infused with quality and style, ensuring your brand achieves its fullest potential. They're not just about achieving short-term goals; they're in it for the long haul, working tirelessly to deliver strategies that exceed expectations and drive remarkable business growth.
Determination to Dominate the Boise Market
Redfox Visual is more than just a web marketing firm; it's a powerhouse determined to dominate the Boise market. Their unique blend of services, commitment to client success, and competitive pricing makes them a force to be reckoned with. With Redfox Visual, businesses in Boise and beyond can harness the power of digital marketing to achieve online success.
In the next section, we'll delve into the exciting future of web marketing and the emergence of Web3 marketing agencies. Stay tuned to discover how these next-generation marketing agencies are changing the game.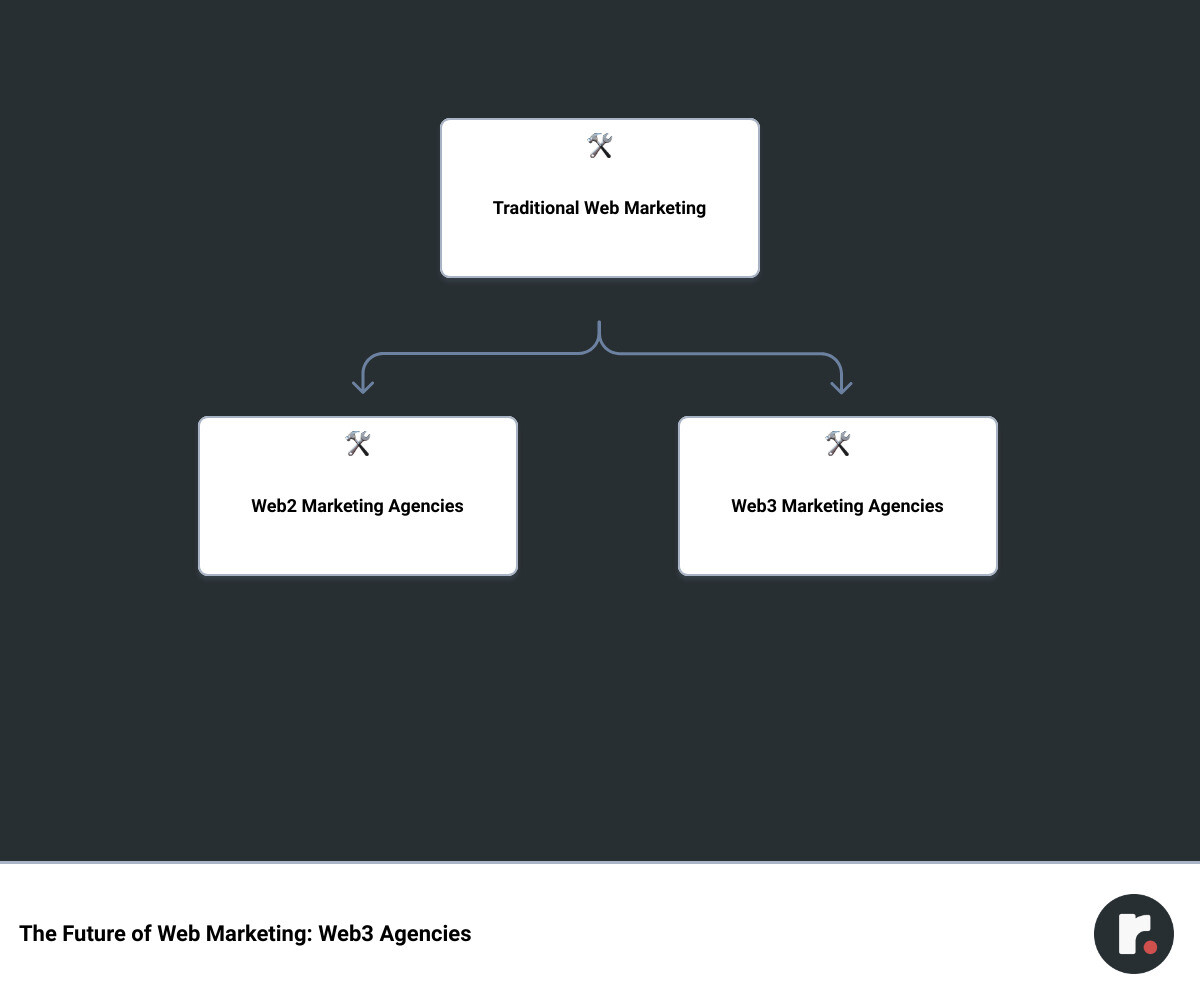 The Future of Web Marketing: The Emergence of Web3 Marketing Agencies
The digital marketing landscape is constantly evolving, and with the rise of blockchain technology, a new player has entered the field – Web3 marketing agencies.
What is a Web3 Marketing Agency?
A Web3 marketing agency is a digital marketing firm that specializes in promoting projects built on blockchain technology. These could be blockchain-based companies, cryptocurrency projects, or even non-fungible tokens (NFTs). Unlike traditional digital marketing agencies that focus on conventional businesses, Web3 marketing agencies are attuned to the unique nuances and needs of the blockchain industry.
Web3 marketing agencies understand the decentralized nature of blockchain projects and the community-oriented approach that these projects usually embrace. They utilize innovative marketing strategies tailored to the unique needs of this industry, ensuring that their clients stand out in the crowded blockchain marketplace.
How Web3 Marketing Agencies are Changing the Game
Web3 marketing agencies are game-changers in the digital marketing industry. With their specialized knowledge and understanding of blockchain and its associated technologies, they can craft marketing strategies that hit the mark in this niche but burgeoning market.
One of the key ways these agencies are changing the game is by leveraging the power of community. Blockchain projects often rely heavily on their community for success, and Web3 marketing agencies understand this. They create strategies that not only promote the project but also engage and involve the community, fostering a sense of ownership and loyalty that can be incredibly powerful.
Moreover, Web3 marketing agencies are adept at navigating the complex regulatory landscape that surrounds blockchain and cryptocurrency. They can ensure that marketing campaigns comply with relevant regulations, avoiding potential pitfalls that could harm the project.
In a nutshell, the rise of Web3 marketing agencies represents a significant shift in the digital marketing landscape. As more businesses explore the potential of blockchain technology, the demand for these specialized agencies is likely to grow. They are the invisible driving force behind the online success of many blockchain projects, bridging the gap between these innovative technologies and the target audience.
In the next section, we'll explore the unseen power of web marketing firms in online success. Stay tuned to learn how these agencies can help your business thrive in the digital world.
Conclusion: The Unseen Power of Web Marketing Firms in Online Success
In the digital age, where the internet serves as the world's largest marketplace, the invisible hand guiding businesses to online success often belongs to a web marketing firm. Just like the powerhouse Redfox Visual, these agencies have the tools, knowledge, and creativity to navigate the complex digital landscape. They are the secret weapon behind many businesses' online success, helping them connect with their target customers, promote their services, and ultimately drive revenue growth.
Web marketing firms play a crucial role in the online success of businesses. From SEO and content marketing to social media advertising and website design, they employ a wide range of strategies to bolster a brand's online presence. They work relentlessly to ensure their clients' websites rank high in search engine results, their social media ads target the right audience, and their content resonates with potential customers. All this is done while keeping track of the ever-changing digital trends and adjusting strategies accordingly.
The top web marketing firms, such as Ignite Digital, WebFX, and Disruptive Advertising, have set a high bar in the industry with their innovative approaches and successful campaigns. However, local firms like Redfox Visual in Boise, Idaho, have shown they can hold their own, offering expert-level services similar to their larger counterparts but with a local touch.
As we move into the future, we are witnessing the emergence of Web3 marketing agencies, which specialize in promoting blockchain-based companies and crypto projects. These agencies represent a new frontier in digital marketing, using innovative strategies to help their clients stand out in the burgeoning world of blockchain and cryptocurrency.
In conclusion, web marketing firms are the unsung heroes of online success. Whether you're a small business looking to make your mark or an established brand aiming to maintain your position, choosing the right web marketing firm can be a game-changer. It can make the difference between getting lost in the digital noise and standing out as a beacon of success in the online world. This unseen power of web marketing firms is truly the secret to unleashing the power of online success. So, if you're keen on making your digital mark, it's high time you consider partnering with a web marketing firm.